About Us
GENERAL
The Civil Defence Commission (CDC) was established in the year 1982 to make plans and conduct operations to deal with all types of disasters in Guyana. By 1985 a comprehensive National Disaster Preparedness Plan was documented and put into use.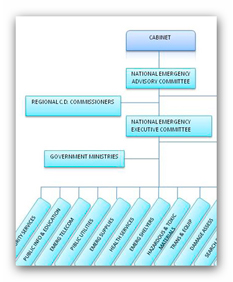 At the time of its establishment the Commission operated under the authority of the Office of the Prime Minister. Responsibility for the CDC was subsequently moved to the Office of the President in 1992.
In September 2001 Standard Operation Procedures for the National Emergency Operations Centre were upgraded to meet new challenges of the worsening domestic and international disaster situation.
The CDC of Guyana is a full member of the Caribbean Disaster Emergence Management Agency (CDEMA).
PLANS AND PROCEDURES
Plans and procedures are the most important tool of disaster management because they structure and guide emergency action. Plans are based on the premise that it is better to make your decisions long before a disaster strikes than in the aftermath of a disaster when information is inaccurate and the situation is confusing and often unknown.
Our primary plans and procedures will cover the following:
a. Disaster Plans. These include preparedness plans such as warning and evacuation plans, sheltering plans, needs plans, and search and rescue plans. Disaster plans are prepared on the basis of known risks, estimated impact areas, and predicted needs.
b. Contingency Plans. Contingency plans are actions planned in anticipation that something unexpected might occur.
c. Forward Planning. This concerns the development of specific plans to meet an immediate emergency.
d. Standard Operating Procedures (SOPs). SOPs are developed within an organisation to provide standard responses to anticipated situations.
PLANNING STRATEGIES
Various strategies to mitigate the impacts of hazards can be adopted through normal planning, and among these are:
a. Adjusting normal development programmes to reduce losses. E.g. certain varieties of crops that are more wind- or flood resistant can often be introduced in areas prone to floods or high winds.
b. Economic diversification. In areas/regions where the principal or sole source of income is threatened, attempts should be made to diversify the economy and introduce economic activities that are less vulnerable, or not as vulnerable to the same types of disaster. Diversification is extremely important
where economies are based on a single cash crop, e.g. Sugar cane or rice paddy.
c. Developing "disaster resistant" economic activities on the Coastal Plains of Guyana.
FUNCTIONS OF THE CIVIL DEFENCE COMMISSION
The Commission will function as follows:
· Service Provider – Promoting its role of providing services to local authorities/communities and for that purpose, to develop programmes designed to enhance those services.
· Planning and Implementation – Ensuring the promotion and development at national level of disaster planning and management and, in co-operation with local authorities, facilitating the implementation of disaster management measures for the purpose of emergency relief and support;
· Loss reduction and Mitigation – Promoting the adoption of disaster loss reduction and mitigation policies and practices at the national and local authority level;
· Voluntary Service – The promotion and development of voluntary service as an integral aspect of disaster management;
· Training and Education – To establish and promote the development, maintenance and improvement of the tenants of disaster management training and education; and
· Permanent Staffing – Maintaining a permanent body to enhance the national capacity for disaster management services.
Responsibility for disaster management in Guyana extends to every individual, family, community, government and private sector organizations. The Civil Defence Commission coordinates the national system with these bodies and is committed to initiating and supporting the disaster management process throughout Guyana.
IMMINENT DEVELOPMENTS
The Government of Guyana is inclined to adopt a comprehensive reform process to modernize the Civil Defence Commission (CDC) and to bring it in line as much as practicable with the policies of CARICOM's umbrella agency for disaster management.
The reform process will involve among other measures, the revising of the outdated National Disaster Preparedness Plan to make the CDC compliant with global and regional systems such as United Nation International Strategy for Disaster Reduction and the Caribbean Disaster Emergency Response Agency's Comprehensive Disaster Management Framework. Implementing disaster preparedness legislation and upgrading infrastructural facilities will be completed as well.